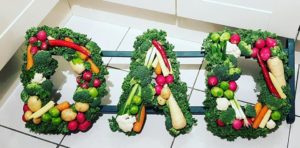 We love food. We love dads. Dads love food from the Farmers' Market (especially all the great things you'll prepare for him with the things you bought there!). Stop by Saturday and grab something special for Dad!
This Saturday:

NEW VENDOR: Dr. Bessette Naturals will be bringing my handmade 100% natural strawberry seed oil facial serum with bergamot, mandarin orange and Chinese rosewood essential oils. Great for a hydrating summer glow!

Riedman Happy Hives – Not sure what to get Dad for Father's Day?  How about you give the guy some of the sweet stuff?  Riedman Happy Hives will have plenty of spring and fall local raw honey in 1 and 2-lb glass jars.  Not sure we'll have much sun-kissed honey – but we will if we can bottle some up!  See you Saturday!

Kitchen Blessings Baking will have several kinds  cookies including the Red Raspberry Filled cookies, Coconut Macaroons, and more!
The pies will be Fruits of the Forest, Red Raspberry &  Rhubarb- Strawberry 🍓
We'll have fresh Cinnamon Rolls and Blueberry 🫐 Scones.
The "special" item this week will be Fresh Lemon Bread Loaves.
Don't forget the jams & jellies. Stop in to see what flavors are available.

Carney Agri Farm will have Fresh Microgreens, Fresh Whole Log Grown Shiitake Mushrooms, Pure Maple Syrup and Maple Confections.  

FLX Popcorn will have;
Salted Caramel Corn
Caramel Corn with Cashews
Reese's PB Caramel Corn
Birthday Cake Caramel Corn
Kettle Corn
Sweet Heat Kettle Corn
Dill Pickle Popcorn
White Cheddar Popcorn
Salt & Vinegar Popcorn

Mrs. Brake's Spices will have:
Our Famous Barnyard Blends made for chicken, beef and pork Blend includes: Hen House, Mocha Rub and Sweet Meat Medley.
Each Kit comes with a recipe and idea sheets! Each blend is also sold separately. At the market, in store and online!
·       NEW Blend –Madagascar grade A Vanilla Bean sugar.
·        Spice Blends made fresh onsite with NO Anti-caking agents or fillers! With over 60 blends to choose from!  Stop by my space to Discover Amazing Flavor!
·       Many everyday spices to choose from.
·       Variety of small gift basket options
Extra TIPS
·        Save money by using spices and blends for more than their intended purpose, try on veggies, meats & popcorn. Grilled, baked, broiled and stove top made foods also get a boost of flavor.
·        Cross a savory for a sweet spice blend, you might be surprised at the flavor that comes alive!
·        Reaching out of your comfort zone to cook is not something you may think to do, but try anyway and be surprised!
Remember to Call me & order, so your favorites will be ready or take time to look on mrsbrakes.com for inventory, then please call the store at 585-869-5251 to pre-order and I will bring your selection to the market with me!

The Woodland Elf will have a few mixed bouquets, broomcorn gnomes, photo greeting cards, and beeswax candles.

Seasons of NY will have:
Entrees
Back this week! Andouille Sausage with Peppers and Rice
Turkey in Curry over Rice
Vegetarian Lasagna
Mushroom Lentil Bolognese
Cauliflower Alfredo with Chicken
.
Noodle Bowls
Deconstructed Pork Egg Roll
Asian Fusion with Shrimp
Vegan Asian Fusion
.
Vegan Soups
Sweet Potato and Peanut
Super Vegetable Vegan
Lentil and Sweet Potato
.
Vegetarian Soups
Cream of Broccoli
Leek and Corn Chowder
Butternut Squash and Apple Bisque
.
Soups with Meat
Super Vegetable with Chicken
Lemon Chicken Orzo
Loaded Baked Potato
.
Dressings
Maple Balsamic
Celery Seed
Tahini
Gingered Carrot Miso
.
Desserts
Spicy Chocolate Brownies
Flourless Chocolate Torte
Cheesecake with Raspberry Coulis
Cheesecake with Chocolate Ganache
Apple Cheese Torte
Chocolate Ganache Brownies
Blueberry Breakfast Cookies

Edler Acres will be there with lamb cuts, eggs, gluten free rice Krispy treats and some gluten free sour cream coffee cake muffins.

Andy's Specialty Produce will have salad mix, spinach, arugula, lettuce, radishes, turnips, pea shoots, and cucumbers.

CDGA Coffee Co will be highlighting its perfect Father's Day Coffee – our Black Button Bourbon Barrel Aged CDGA Four Country Roast!!
Additionally, we'll have all your favorites!
Costa Rica
DR Congo
Guatemala
Agustino Forest (Colombia)
CDGA Four Country Roast
CDGA Four Country Roast Special Dark
Sumatra
Nicaragua
SBA Blend
House Blend
Decaf
Chocolate Hazelnut
Peppermint

Bristol Hills Lavender will have:
Freshly cut peony stems
Peony bouquets
Peony candles
Lavender candles
Lavender salves
Lavender sachets
.
Please join us in making flower crowns with our petite peonies, the only experience necessary is tying a knot!

NEW VENDOR: Black Squirrel Farms will have
NYS Wild Black Walnuts
NYS Maple Glazed Black Walnuts
NYS Wild in shell black walnuts
BBQ Smoking Chips
NEW Tatsoi Greens
NEW Poison Ivy Soap
Walnut Gardeners Soap
Walnut Toilet Sparkle
*** The Fairville Baker and Ms. Linzy's Mac-n-cheese will not be at market this week, but will be back next week.
Family Friendly Event Schedule:
June 17            Floral Hair Garland Day     
July 1               Face Painting Day
July 15             Children's Book Swap/Story Time
August 5          Caricatures Day
September 9    Balloon Animal Day
October 28       Trick or Treat