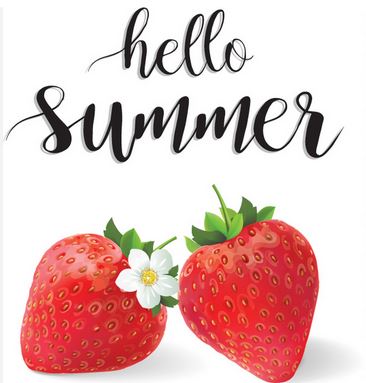 The calendar officially says it's summer! So make the Farmers' Market a part of your summer routine every Saturday!

This Saturday:

Lagoner Farms will be there with strawberries hopefully – it's been a rough strawberry crop this year!

F. Oliver's will be sampling Balsamic Spritzers! We also will be sampling other balsamic vinegar and EVOO pairings.

Cloud Forest Farm will have Blueberry, raspberry, cranberry, goji berry, and honeyberry bushes
Serviceberry, butternut, Chicago hardy fig, and hazelnut seedlings
Northern blue flag iris, shrubby cinquefoil, blue phlox, and anise hyssop
Strawberry plants

Kitchen Blessings Baking will have many kinds of cookies. Also on the menu are Cinnamon Rolls, 🍋 Lemon Bread Loaves, and Fresh Strawberry Scones.
The special item this week will be Cherry 🍒 Crumb Bars.
The pies will be Blueberry & Rhubarb – Strawberry.
And of course…several varieties of Jams and Jellies.

FLX Popcorn will have;
Salted Caramel Corn
Caramel Corn with Cashews
Reese's PB Caramel Corn
Birthday Cake Caramel Corn
Kettle Corn
Sweet Heat Kettle Corn
Dill Pickle Popcorn
White Cheddar Popcorn
Salt & Vinegar Popcorn
*New Flavor* Mocha Caramel Corn
*New Flavor* FLiX Mix (Salted Caramel & Cheddar Mix)

The Fairville Baker is bringing an assortment of sourdough baked goods including Classic Artisan, Country Rye, Super Seeded, and Jalapeno Cheddar loaves, Blueberry Cream and Cinnamon Mini Babkas and Chocolate Chip and Oatmeal Scotchie cookies. We'll also have a variety of jams to pair with your sourdough bread.

Ms. Linzy's Mac-n-cheese will have Mommy's Mix with bacon, OG, Pulled Pork and Buffalo Chicken "Hot and Ready", Cookie topped brownies and Freezer Friends! Next week, I will have Face Painting and Kindness Rocks for the kids to decorate at my table!

The Woodland Elf is probably sold out of flowers this week (unless there's a cancellation), but will have broomcorn gnomes, photo greeting cards, and beeswax candles.

Riedman Happy Hives will BEE celebrating Summer with you all by offering our local raw honey in 1/2 lb squeeze jars and 1 and 2 lb glass jars in Spring and Fall varieties. Sorry, no sunkissed this week 🙁

Dr. Bessette Naturals will be bringing my handmade coconut water and argan oil serum with the thieves essential oil blend, perfect for clarifying and balancing skin.

Mrs. Brake's Spices will have:
· Will have our BBQ dry rub, Your Grill awaits! See tips below.
· NEW Blend –Madagascar grade A Vanilla Bean sugar(and other sugars made onsite.
· Spice Blends made fresh onsite with NO Anti-caking agents or fillers! With over 60 blends to choose from! Stop by my space to Discover Amazing Flavor!
· Need a quick last minute picnic gift, I will have small gift basket options
Ask about class "Inspiring Young Chefs" Only at Mrs. Brake's. For every young chef in your life. I will have July menu with me!
Extra TIPS
· Use the BBQ dry Rub with corn on the cob, fish, meats and grilled veggies, mix directly into mustard, mayo or take 1 teaspoon rub and mix into 2 Tablespoons oil for a delicious marinade!
· TIPS for Mrs. Brake's Best Quality Infused sugars
· Simple Syrup – put into cakes, cookies – Frosting – pudding. Add to tea, coffee, smoothies! Ideas are endless, what will you make?
· Simple syrup- Equal parts sugar & water. Combine and bring to heavy simmer. Take off heat and steep 10 minutes. Use a mesh strainer and pour liquid into a vessel of your choice to sift debris. Let cool cover and store in the fridge for 2 weeks.
Remember to Call me & order, so your favorites will be ready or take time to look on mrsbrakes.com for inventory, then please call the store at 585-869-5251 to pre-order and I will bring your selection to the market with me!

Black Squirrel Farms will have
NYS Wild Black Walnuts
NYS Maple Glazed Black Walnuts
NYS Wild in shell black walnuts
BBQ Smoking Chips
NEW Poison Ivy Soap
Walnut Gardeners Soap
Walnut Toilet Sparkle

CDGA Coffee Co will be at the Canandaigua Farmers Market this Saturday with a full complement of its fresh, locally roasted organic, fair traded coffees!!
Costa Rica
DR Congo
Guatemala
Agustino Forest (Colombia)
CDGA Four Country Roast
CDGA Four Country Roast Special Dark
Sumatra
SBA Blend
Nicaragua
House Blend
Black Button Bourbon Barrel Aged CDGA Four Country Roast
Peppermint
Chocolate Hazelnut

Andy's Specialty Produce will have salad mix, spinach, arugula, lettuce, radishes, turnips, pea shoots, kale, napa cabbage, and garlic scapes.

Bristol Hills Lavender is bringing:
Peony bouquets
Peony candles
Lavender candles
Lavender salves
Lavender sachets

Seasons of NY will have:
Entrees
Andouille Sausage with Peppers and Rice
Turkey in Curry over Rice
Vegetarian Lasagna
Mushroom Lentil Bolognese
Cauliflower Alfredo with Chicken
.
Noodle Bowls
Deconstructed Pork Egg Roll
Asian Fusion with Shrimp
Vegan Asian Fusion
.
Vegan Soups
Sweet Potato and Peanut
Super Vegetable Vegan
Lentil and Sweet Potato
.
Vegetarian Soups
Cream of Broccoli
Leek and Corn Chowder
Butternut Squash and Apple Bisque
.
Soups with Meat
Super Vegetable with Chicken
Lemon Chicken Orzo
Loaded Baked Potato
.
Dressings
Maple Balsamic
Celery Seed
Tahini
Gingered Carrot Miso
.
Desserts
Spicy Chocolate Brownies
Flourless Chocolate Torte
Cheesecake with Raspberry Coulis
Cheesecake with Chocolate Ganache
Apple Cheese Torte
Chocolate Ganache Brownies
Blueberry Breakfast Cookies

Seneca Vegetables will have garlic scapes, a large variety of herbs, lettuce pots, herb bowls, potted flowers, individual potted plants, and hanging baskets.
***Thai By Night will not be at the market this week, but will return next week.

Family Friendly Event Schedule:
July 1               Face Painting Day
July 15             Children's Book Swap/Story Time
August 5          Caricatures Day
September 9    Balloon Animal Day
October 28       Trick or Treat