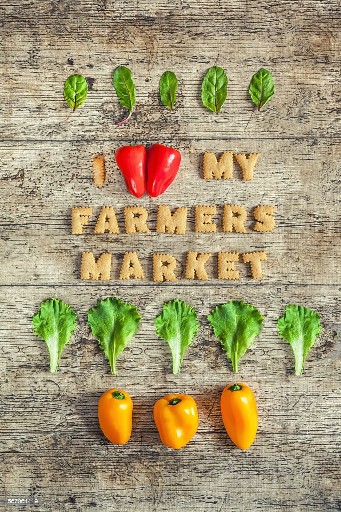 The days are getting shorter, but we're not letting go of summer just yet. We remain under the pavilion through the end of October!

This Saturday:

K&S Bischoping will have apples and peaches this week.

Dr. Bessette Naturals will be bringing a few dozen handmade lip balms made with Reidman Farms honey. 100% natural food grade ingredients with no artificial flavors or colors in a really pretty aqua sphere case.

Kitchen Blessings Baking will be ushering in  Fall this week with  🍎 Apple Crumb Topped pies & Peach pies.
We'll have Apple Cider Cookies made with our  own pressed and boiled apple cider.
There'll be lots of other cookies including Red Raspberry Filled drops.
Scones will be Blueberry 🫐. Don't forget the delicious Crumb Topped Cinnamon Rolls.
Lots of jams & jellies available as well.

Thai By Night will have:
Chicken gyoza
Chive dumplings
Summer rolls
Spring rolls
Pork & shrimp shu mai
Pad thai home kit
Curry pouches (red/ green/ panang)
Thai tea
Ginger lime tea
Peanut sauce

FLX Popcorn will have:
Salted Caramel Corn
Reese's PB Caramel Corn
Birthday Cake Caramel Corn
Caramel Corn with cashews
Dill Pickle Popcorn
White Cheddar Popcorn
Salt & Vinegar Popcorn
Rainbow Kettle corn
Mafia Mix

Black Squirrel Farms will have
NYS Wild Black Walnuts
NYS Maple Glazed Black Walnuts
Walnut Gardener's Soap
Anti Poison Ivy Soap
New Mini Amenity Soap Bars ( 2 for $5 special )
Walnut Sparkle
BBQ Smoking Chips

Bristol Hills Lavender & Flower Farm will have:
Dahlia's by the stem and in bouquets
Fresh lavender bunches
Lavender candles
Lavender salves
Lavender sachets
Peony candles

Edler Acres will be there with lamb, eggs and gluten-free treats.

The Woodland Elf will have sunflower bunches for sale and maybe a few mixed bouquets. Also photo greeting cards, beeswax candles, and an autumn broomcorn gnome. 

The Fairville Baker is bringing an assortment of sourdough baked goods including Classic Artisan, Cranberry Walnut, Super Seeded, and Jalapeno Cheddar loaves, Dark Chocolate and Cinnamon Mini Babkas and Chocolate Chip and Oatmeal Scotchie cookies. We'll also have a variety of jams to pair with your sourdough breads.
***Mrs. Brake's Spices, Ms. Linzy's Mac and cheese, F. Oliver's, and Cloud Forest Farm will be absent from the market this week, but will return next week.

Family Friendly Event Schedule:
September 9 Balloon Animal Day
October 7 Scavenger Hunt
October 28 Trick or Treat
We have even more vendors than just those listed above in detail, come see what's happening!
We're excited to celebrate our 22nd season!