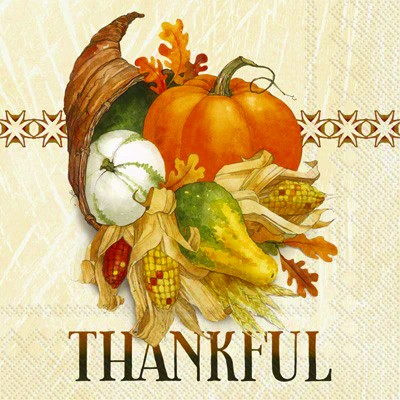 'Tis the time of year to be Thankful, and we are thankful for all of you! This weekend let us help you get ready for your Thanksgiving feast. Whether you're in need of side dishes, deserts, or even the turkey itself, you can find what you need at the market this weekend!
Here's a sneak peek of vendor offerings for this Saturday:
Carney Agri Farm will have will have:
Fresh Microgreens (variety)
Pure Maple Syrup (Amber- Gallon, Half Gallon, Quart, Pint, Half Pint, Mini)
Dark Amber Maple Syrup (Quarts, Pints)
Very Dark Amber Maple Syrup (Quarts, Pints, Half Pints)
**New Product: Bourbon Barrel Aged Maple Syrup (Glass 12 ounces)
Maple Confections: Maple Popcorn, Maple Cotton Candy, Maple Soft Candy

Stoney Acres will be having:
Salad mix
Head lettuce
Carrots
Radishes
Bok choy
Beets
Turnips
Kale
Eucalyptus
Pasture raised Turkeys! A few whole and halves!!!

The Woodland Elf will have beeswax candles, flowered gourds, and photo greeting cards (evergreen swags and gnomes coming at the next market on Dec. 16th).

K&S Bischoping will have a variety of apples for your holiday baking needs.

Seneca Vegetables will have the following:
Broccoli, cauliflower, Brussels sprouts, eggplant, winter squash (butternut,acorn, mashed potato), hot peppers, sweet peppers, garlic, small potatoes, and dried flower bouquets.

Dr. Bessette Naturals will be bringing soap box gift sets and shampoo bar collections as well as my handmade natural skincare products that make great stocking stuffers!

Seasons of NY will have:
Hot Sauce!
Arbol and Guajillo Peppers with Garlic, Spices and Vinegar.
.
Entrees
Chicken and Stuffing in Cider Sauce
Cheese Tortellini with Butternut Squash Sauce and Apple Sausage
Vegetarian Enchiladas
Turkey in Green Curry over Rice
Vegetarian Lasagna
.
Noodle Bowls
Chicken, Veggies and Peanut Sauce over Rice Noodles!
Deconstructed Pork Egg Roll
.
Vegan Soups
Sweet Potato and Peanut
Super Vegetable Vegan
.
Vegetarian Soups
Leek and Corn Chowder
Cream of Broccoli
Butternut Squash and Apple Bisque
.
Soups with Meat
Super Vegetable with Chicken
Lemon Chicken Orzo
Loaded Baked Potato
.
Dressings
Maple Balsamic
Celery Seed
Tahini
Gingered Carrot Miso
.
Desserts
Pumpkin Cheesecake
Cheesecake with Chocolate Ganache
Spicy Chocolate Brownies
Flourless Chocolate Torte
Cheesecake with Raspberry Coulis
Apple cheese Torte
Chocolate Ganache Brownies
Blueberry Breakfast Cookies
Pumpkin Cookies with Cream Cheese Frosting

Kitchen Blessings Baking will be at the market this Saturday with a select menu for Thanksgiving.
We'll have Cinnamon Rolls, Old-fashioned Pumpkin Bread, Maple-Oat Scones & assorted cookies🍪
Pies will be: Pecan, Apple, & Pumpkin (6″ only).
We'll also have Fresh Baked Dinner Rolls in tins of 1/2 dozen each.
Large pies 🥧 for Thanksgiving can be ordered on Saturday as well.
Don't forget to stock up on the jams & jellies.

CDGA Coffee Company will be kicking off the holiday season at this Saturday's pre-Thanksgiving Farmers Market featuring the following bags of freshly roasted local coffee:
2023 Christmas Blend – Feliz Navidad – a blend of dark roasted beans from Costa Rica, Guatemala, Nicaragua and Mexico
Peppermint Stick – a CDGA Coffee tradition – Guatemala Medium Roast flavored with organic peppermint flavoring
Black Button Bourbon Barrel Aged CDGA Four County Roast – for that special someone in your life!
Chocolate Hazelnut – because who doesn't love Nutella!
We will also be introducing a new Decaf offering – Peruvian Decaf

Andy's Specialty Produce will have salad mix, spinach, carrots, onions, potatoes, sweet potatoes, butternut squash, beets, garlic, lettuce, pea shoots, and kale.

Cloud Forest Farm will have potted paperwhites and amaryllis.

Max The Beekeeper will have quarts, pints, pounders and half pounders of spring, summer and fall honey. We will also bring 8 oz honey bears for stocking stuffers.

Edler Acres will be there fully restocked in Lamb cuts and Goat meat. We will also have gluten free cookies and lots of eggs.

Schrader's Acres will be at the market this Saturday. We are restocked on steaks, roasts, and ground beef! If you'd like to place an order, you can text Michelle at (315) 406-5491 or email theschradersfarm@gmail.com

Fairville Baker will be there with their sourdough Classic Artisans, Super Seeded, Jalapeno Cheddar, and Cranberry Walnut loaves. We'll also have some Cranberry Orange and Cinnamon mini Babkas.
* Riedman Happy Hives. due to limited honey supply, we will not be at the market for the next few but do plan to be at the market before the Christmas holiday with a few holiday gifts, including our bee balm salve and possibly some beeswax candles, as well as a limited supply of honey. Thanks and we are grateful to all of you! Have a great Thanksgiving!

* Ms. Linzy's Mac-n-cheese will return on December 16th!
More vendors are also expected, just not sure on their exact product selections!