Be local with a stop at the Canandaigua Farmers' Market this weekend!
This Saturday: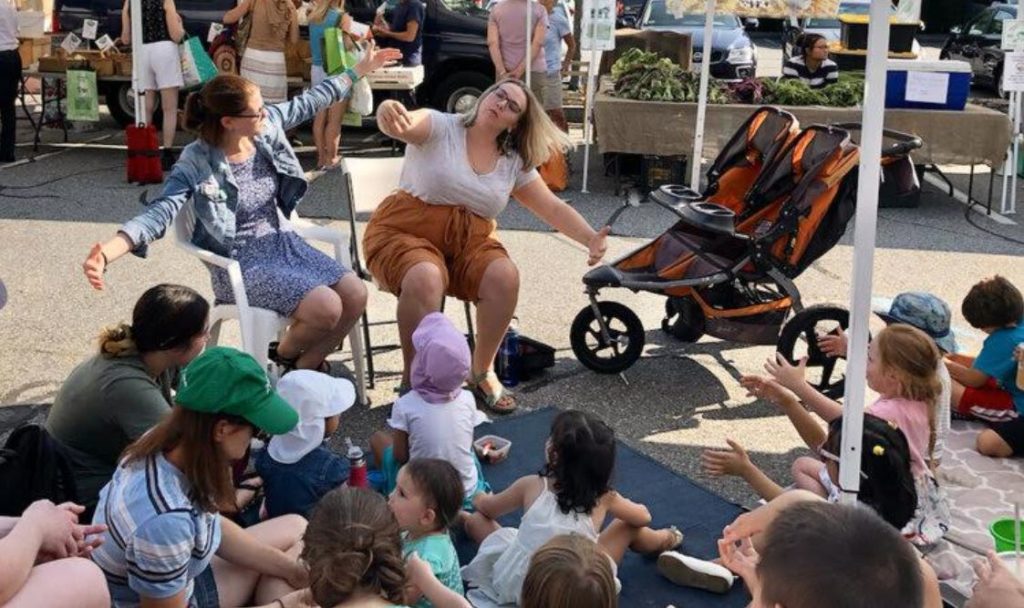 CDGA Coffee Company is partnering with Community Reading Partnership(CRP) to bring you a fun family-friendly literacy event at the Farmers Market THIS Saturday July 15th from 9am-noon at the Mill Street Pavilion in Canandaigua. Families may bring gently-used children's books to donate and take as many gently-used children's books from our Little Red Bookshelf. CRP will be on hand to read storybooks and facilitate a craft to go with each book!
Community Reading Partnership, www.communityreadingpartnership.org, is a local not-for-profit organization that is committed to increasing opportunities for access to books, provide books to children at transitional times in their lives, and to provide literacy programs in the community. Each year CRP provides approximately 750 books to newborn babies at Thompson Hospital, over 500 books to children at their 12 month checkup at Canandaigua Medical Group, 325 books for Kindergartners at Canandaigua Primary School and Saint Mary's. The CRP Little Red Bookshelf Program gets over 5,500 books into the hands of area children and adults. CRP also plans and implements a Children's Book Fest held every other year with local authors. Look for this event next May as it is a family favorite!
CDGA Coffee Co, www.cdga.coffee, is a family owned and operated local coffee roaster. Their mission is to source the best quality organic and fair traded coffee beans, roasting them locally in small batches, ensuring quality and freshness. It is CDGA Coffee Co's great pleasure to donate 10% of their revenue to local not-for-profits. To date, they have donated over $15,000 to a wide variety of organizations including CRP, Wood Library and Literacy Volunteers Ontario-Yates. You can find them at the Canandaigua Farmers Market, local area businesses and their website.

Dr. Bessette Naturals: There are still a few dozen bars available of our CDGA coffee soap. Great as a deodorizing kitchen soap or perfect after gardening with a delicious mocha scent. Only $5 a bar!

Carney Agri Farm will have Fresh Microgreens, Fresh Whole Log Grown Shiitake Mushrooms (possibly if inventory) Pure Maple Syrup and various Maple Confections.

Clearview Farm will have Watercress, dill, grass grown and finished Angus beef (no grain), Seneca Grain and Bean dry beans (black, pinto, red kidney, 3 bean blend, chick peas, lentils)

Kitchen Blessings Baking will have a large variety of cookies including Blueberry filled cookies and the Lemon lavender Drops.
We'll have Cinnamon Rolls, 🫐 Blueberry Scones, 🍒 Cherry & Red Raspberry Pies.
The special item this week will be Fresh Strawberry 🍓 Bread Loaves.
Check out the jams & jellies. All fruit used for these are homegrown by us, or purchased locally.

K&S Bischoping will have gooseberries.

The Fairville Baker is bringing an assortment of sourdough baked goods including Classic Artisan, Country Rye, Super Seeded, and Jalapeno Cheddar loaves, Dark Chocolate and Cinnamon Mini Babkas and Chocolate Chip and Oatmeal Scotchie cookies. We'll also have a variety of jams to pair with your sourdough bread.

FLX Popcorn will have;
Salted Caramel corn
Reese's PB Caramel Corn
Birthday Cake Caramel Corn
Kettle Corn
Sweet Heat Kettle Corn
Dill Pickle Popcorn
White Cheddar Popcorn
Salt & Vinegar Popcorn
*New Flavor* Mocha Caramel Corn

Andy's Specialty Produce will have salad mix, lettuce, garlic, tomatoes, kale, and pea shoots.

Cloud Forest Farm will have:
Fruit Bushes: Raspberry, Blueberry, cranberry, goji berry, black raspberry, honeyberry, and strawberry plants
Fruit and Nut Seedlings: Serviceberry, butternut, American persimmon, Chicago hardy fig, and hazelnut
Native Perennials: Northern blue flag iris, shrubby cinquefoil, anise hyssop, giant blue lobelia, scarlet bee balm and blue vervain

Schrader Farms will be there this Saturday with steaks, bulk hamburger, and patties. We will also be offering samples this week! If you would like to place an order ahead of time, please call/text us at (315) 406-5491 or email us at theschradersfarm@gmail.com

The Woodland Elf will have a few flower bouquets, photo greeting cards, and beeswax candles.

Seasons of NY will have:
Entrees
Andouille Sausage with Peppers and Rice
Turkey in Curry over Rice
Vegetarian Lasagna
Mushroom Lentil Bolognese
Cauliflower Alfredo with Chicken
.
Noodle Bowls
New! Chicken, Veggies and Peanut Sauce over Rice Noodles!
Deconstructed Pork Egg Roll
Asian Fusion with Shrimp
Vegan Asian Fusion
.
Vegan Soups
Sweet Potato and Peanut
Super Vegetable Vegan
Lentil and Sweet Potato
.
Vegetarian Soups
Cream of Broccoli
Leek and Corn Chowder
Butternut Squash and Apple Bisque
.
Soups with Meat
Super Vegetable with Chicken
Lemon Chicken Orzo
Loaded Baked Potato
.
Dressings
Maple Balsamic
Celery Seed
Tahini
Gingered Carrot Miso
.
Desserts
Spicy Chocolate Brownies
Flourless Chocolate Torte
Cheesecake with Raspberry Coulis
Cheesecake with Chocolate Ganache
Apple Cheese Torte
Chocolate Ganache Brownies
Blueberry Breakfast Cookies

Bristol Hills Lavender & Flower Farm is bringing:
Fresh bunches of lavender
Mixed flower bouquets
Lavender candles
Peony candles
Lavender salves

Mrs. Brake's Spices will have:
· So many Blends to choose from for all kinds of meat, fish and veggies!
· Will have BBQ dry rub, and many more grilling spice Blend options
· Stock up with our Orietta's Sicilian Seasoning. It's so versatile, see below for ideas. For every purchase, you will receive an idea sheet for this blend!
· Spice Blends made fresh onsite with NO Anti-caking agents or fillers! With over 60 blends to choose from! Stop by my space to Discover Amazing Flavor!
Ask about class "Inspiring Young Chefs" Only at Mrs. Brake's. For every young chef in your life. I will have August menu with me!
Extra TIPS
· Use the BBQ dry Rub with corn on the cob, fish, meats and grilled veggies, mix directly into mustard, mayo or take 1 teaspoon rub and mix into 2 Tablespoons oil for a delicious marinade!
· TIPS for Mrs. Brake's Spice blends
· Mrs. Brake's Spices- Orietta's Sicilian Seasoning and Extra virgin olive oil! Dynamite flavor use for salad dressing, marinade, drizzle while cooking/grilling, bread, flatbread, brush on a panini or any tomato sauce!
Remember to Call me & order, so your favorites will be ready or take time to look on mrsbrakes.com for inventory, then please call the store at 585-869-5251 to pre-order and I will bring your selection to the market with me!

Seneca Vegetables will have zucchini, yellow squash, garlic scapes, lettuce bowls, herb pots, a large selection of herbs, potted plants and a few hanging baskets.

*** Thai By Night will not be at the market this week, but hope to return on the 22nd
Black Squirrel Farms will not be at the market this week but will return July 22nd!
Ms. Linzy's Mac-n-cheese will return on the 29th.
Family Friendly Event Schedule:
July 15 Children's Book Swap/Story Time
August 5 Caricatures Day
September 9 Balloon Animal Day
October 7 Scavenger Hunt
October 28 Trick or Treat
We have even more vendors than just those listed above in detail, come see what's happening!
We're excited to celebrate our 22nd season!