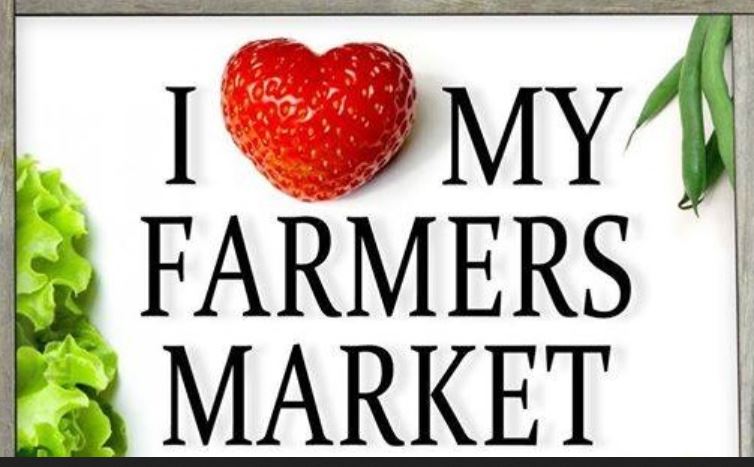 What's the best time to buy local? Anytime! Because local is always better. So come down and shop local at the market this Saturday. More deliciousness coming into season every week.
This Saturday:

Clearview Farm will have Watercress, dill, grass grown and finished Angus beef (no grain), Seneca Grain and Bean dry beans (black, pinto, red kidney, 3 bean blend, chick peas, lentils)
Dr. Bessette Naturals will be bringing simple yet effective POISON IVY soap made with jewelweed. Always good to have on hand in your medicine cabinet and only $5 per bar.

Cloud Forest Farm will have:
Fruit Bushes: Raspberry, Blueberry, cranberry, goji berry, black raspberry, honeyberry, and strawberry plants
Fruit and Nut Seedlings: Serviceberry, butternut, American persimmon, Chicago hardy fig, and hazelnut
Native Perennials: Northern blue flag iris, shrubby cinquefoil, anise hyssop, giant blue lobelia, scarlet bee balm and blue vervain
New: Eastern red columbine

Riedman Happy Hives will BEE BACK at market this week – back from our vacation and travels and will have the sweet stuff bottled and ready for you! Our spring and fall honey and maybe (just maybe) a bit of sunkissed as long as we can get it bottled in time. See you there! We missed you!

Thai By Night will be at the market with:
Spring Rolls
Summer rolls
sauce jars
pouches
peanut sauce
dumplings
Somewhat limited menu still because of clean up
See ya Saturday

Bristol Hills Lavender & Flower Farm will have:
Fresh lavender bundles
Flower bouquets
Lavender candles
Peony candles
Lavender salves
Lavender eye pillows

Schrader's Acres will be highlighting short ribs this week w/ samples. We will also have $4 beef patties, $5 ground beef, and an assortment of steaks. Our steak selection is dwindling, so if you want steaks it would be helpful to know ahead of time. You can call/text Michelle at (315) 406-5491. Thanks!

Mrs. Brake's Spices will have:
· Will have Sweet Meat Medley (also part of our Barnyard blend set), and many more grilling spice Blend options
· Mrs. Brakes Infused Sugars will be on sale and are so fragrant, you can't resist!
· Spice Blends made fresh onsite with NO Anti-caking agents or fillers! With over 60 blends to choose from! Stop by my space to Discover Amazing Flavor!
Ask about class "Inspiring Young Chefs" Only at Mrs. Brake's. For every young chef in your life. I will have August and Ice cream work shop menu with me!
Extra TIPS
· Use the Sweet Meat Medley on fish, meats and grilled veggies, add to a wet BBQ sauce, mix directly into mayo or take 1 teaspoon rub and mix into 2 Tablespoons oil for a delicious marinade!
· TIPS for Mrs. Brake's Spice blends
· Infused sugar -Spiced, Spearmint, Saigon, lavender, Rose, Cacao infused with a large grain sugar all are so good! Make a simple syrup for mixed drinks or try adding spearmint simple syrup to jazz up Lemonade!
Remember to Call me & order, so your favorites will be ready or take time to look on mrsbrakes.com for inventory, then please call the store at 585-869-5251 to pre-order and I will bring your selection to the market with me!

Edler Acres is restocked on lamb cuts, ground and sausage. We will also have eggs and some gluten free treats. Try our new chocolate peanut-butter rice Crispy treat and our moist rich chocolate brownie both are gluten free.

Andy's Specialty Produce will have salad mix, lettuce, garlic, cucumbers, tomatoes, arugula, and pea shoots.

Kitchen Blessings Baking will see you at this week's market.
It's JAM 🫐🍓season and we have many great choices. There are some "hard to find" flavors such as Current, Wild Maine Blueberry, Black Raspberry and MORE.
Cookies🍪 abound including the delicious Red Raspberry Crumb Bar.
Pies this week are 🍒 Cherry & Fruit of the Forest.
The SCONES will be Wild Maine 🫐 Blueberry.

The Woodland Elf is probably sold out of flowers this weekend, unless there's a cancellation (though should have sunflower bouquets next weekend!), but will have photo greeting cards, and beeswax candles.

Black Squirrel Farms will have
NYS Wild Black Walnuts
NYS Maple Glazed Black Walnuts
BBQ Smoking Chips
Poison Ivy Soap
Walnut Gardeners Soap
Walnut Toilet Sparkle
Wineberries

New Vendor Happy Gut Sanctuary will be bringing fermented tea, kombucha, jun. We look forward to meeting everyone at the Canandaigua Farmers Market. Please stop by to sample what we have to offer and don't forget to bring your cleaned growlers with you to fill up!
***FLX Popcorn and the Fairville Baker will not be at the market this weekend but will be back next week.
Ms. Linzy's Mac-n-cheese will return on the 29th and then not again until August 26th!

Family Friendly Event Schedule:
August 5          Caricatures Day
September 9    Balloon Animal Day
October 7         Scavenger Hunt
October 28       Trick or Treat